Flying Fisherman Goes To Baghdad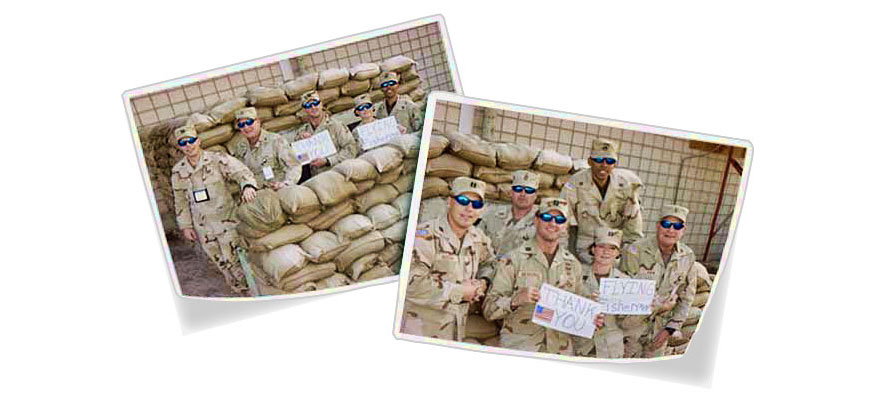 We received a hand written letter from a GI that was forward deployed at Camp Doha in Kuwait. He wrote that while he was there to deal with the Saddam Hussein problem a buddy of his had a pair of Flying Fisherman Viper sunglasses..."I think they are great!" He said "...I would like to be wearing a pair of them when we roll into Baghdad."
Our response was to send him a dozen pairs of our Viper sunglasses for his unit, along with some Key Lime candy. Flying Fisherman sunglasses have been produced and distributed worldwide from the Florida Keys since 1985 offering polarization features that not only work on the watergolfers use them as do snow skiers and many others in situations where flat surfaces cause glare, like while driving. Why not in the desert? Lots of sun and glare there!
His email response follows, along with attached photos of him, Captain Michael Meskunas, and other officers and NCO's wearing the Vipers. It proved a couple things to us it didn't take a whole lot to give some of our troops a good feeling way over there and letting them know that we care does make a difference.

Click to see the original copy of his letter


Alison,
Sorry for the long delay in getting back to you. We only get two days each month to come back to Camp Doha from the border. So, I did not have access to a computer until now. I just wanted to thank you and your company, so much, for the act of kindness and support of U.S. Troops. As I passed out your sunglasses, I could see the morale in the unit rising with each little gift given. It really is good to know that Americans understand why we are here. The acts of 9-11 were intolerable, and we must ensure that nothing like that ever happens again, not only in our great country, but anywhere in the world. The reason there are only five of us in the picture is because not all of us could take our down time at the same time. We had to borrow the digital camera once we got here to Camp Doha. If the print quality is not good enough, I can send the actual disk. Just let me know if you need it. Once again, Thank you so much for your big heart. At the completion of this campaign I will write you again and let you know how "your crew" is doing. You all are great Americans. We are jealous of your location! Thanks for everything.
Sincerely,
Michael Meskunas
PS. The Key Lime candies were awesome! Everyone agreed. :)


Dear Flying Fisherman,
I'll be honest, I had never heard of your company or your website until a friend directed me there to look at a picture. I followed the on screen directions to find the pictures attached to the "Flying Fisherman goes to Baghdad". Much to my surprise, I discovered a couple of pictures that included my daughter, Capt Janet Anderson! I read the story of your generous gift to her and her friends and I wanted to add my thanks to you and your company for adding a little bit of fun and happiness to their time in the desert. She wrote us about it when it happened and I made a note of it but never followed up to thank you...the web site finally reminded me of what I needed to do.
For your information, the group in the photos are safely back to Fort Bliss Texas where some are preparing to return for another tour. They are all assigned to the same Patriot Missile unit that included the ill-fated 507th Maintenance Company. That incident that resulted in the loss of some of their fellow soldiers was but one of many terrible experiences they endured before returning to the USA. But...one of the memories they will talk about for many years to come is the arrival of the fabulous, stylish Vipers!
Thank you very much!
Col Jack Anderson
USAF