Frequently Asked Questions About Flying Fisherman® Products
What is Polarization?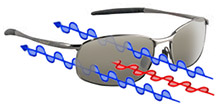 Polarization is a process that uses special filters to absorb glare producing light waves reflected off horizontal surfaces. This horizontally polarized light is blocked by the vertically oriented polarizing filters in the lenses. The result: a significant reduction in annoying and sometimes dangerous glare.
What is AcuTint™?
The Flying Fisherman® AcuTint™ polarized lens coloring system uses a select blend of pigment to enhance color contrast without distorting natural color. It also sharpens visual acuity, reduces eye strain and eliminates glare.
Click to hear about Acutint™

What are the differences in Flying Fisherman's AcuTint™ lens color options?
Smoke - A gray tint best for bright, sunny conditions like fishing deep water, lakes and offshore. The most natural lens color that doesn't distort colors.

Amber - A comfortable brown tint that's excellent for shallow water fishing, bright sun and overcast conditions. Enhances depth perception.

Yellow-Amber - Great for extremely flat or low light conditions like early morning or late evening. Sharpens visual acuity and increases contrast.

Vermillion - A copper/rose lens tint favored for sight fishing, muddy water and very low light conditions. Maximum sharpness and color definition.

Green Mirror - Our amber lens with a multi-layered, green mirror coating that reflects glare away from the eyes. Works well in either bright sun or low light.

Blue Mirror - Our smoke lens with a multi-layered, blue mirror coating that adds a stylish look and extra glare reflection. Best for bright sunny conditions.

Red/Gold Mirror - Our vermillion lens with a multi-layered, golden red mirror coating that adds style and extra glare reflection. Excellent for low light conditions.
What are UV rays, and do Flying Fisherman® sunglasses provide UVA & UVB protection?
Ultraviolet (UV) rays are located just past the violet portion of the visible light spectrum; sunlight is the main source. UV light is broken into three different types: UVA, UVB and UVC. UVA has longer wavelengths and passes through glass easily; experts disagree about whether or not UVA damages the eyes. UVB rays are the most dangerous, making sunglasses and sunscreen a must. UVC rays do not reach the earth because its atmosphere blocks them.

Flying Fisherman® sunglasses provide maximum protection from harmful UVA & UVB rays, and meet or exceed FDA, ANSI and European (CE) standards for general purpose eyewear.
How many different lens materials do you offer?
Flying Fisherman® Sunglasses are offered in three durable lens materials.
Virtually Indestructible Polarized Polycarbonate

TAC (triacetate) hard coated Polarized plastic

Polarized Polycarbonate RhinoLenses™ are virtually indestructible. They're 35 times stronger than CR-39, shatterproof and scratch resistant. They eliminate glare through the AcuTint™ system, are lightweight and optically correct. The RhinoLens™ offers 100% UVA & UVB protection, and can also be found in our Master Angler Series.

Polarized Triacetate (TAC) lenses are lightweight and hard coated for scratch resistance. The Acutint™ Polarized SunLens system eliminates glare, and TAC lenses block 100% of UVA & UVB rays. TAC lenses are offered in our Action Angler Series and Clip-ons.
FlyingFisherman RhinoLens Sunglasses Demo
How do I clean my Flying Fisherman® sunglasses?
Use fresh water and a soft cloth. DO NOT use lens cleaning solutions or other cleansers like Windex which cause the layers of the lens to separate and may damage lens coatings.
What other products does Flying Fisherman® offer besides sunglasses?
Flying Fisherman® has a range of eyewear accessories to protect your sunglasses, and a range of super comfortable t-shirts, hats and SunBandit™ bandanas to enhance your outdoor experience. And if you travel, you need a PASSPORT® -- check out the collection of fly rods and spinning rods for the global angler.